Roof Repair In Genesee County
We can solve all of your roofing problems!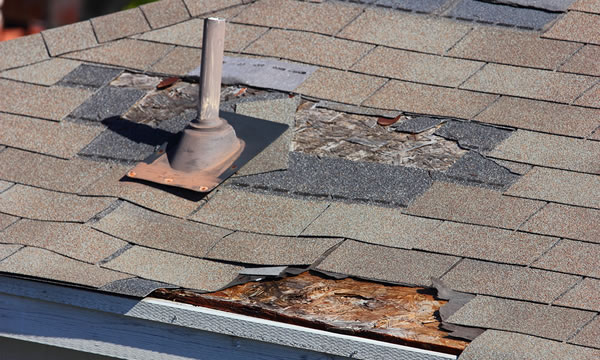 We serve all of Flint Mi and Genesee County's Roof Repair Needs
Have you found a leak in your roof after a recent storm?  Do you have obvious problems with your roofing system such as missing or lifted shingles?  Maybe you're missing roof flashing, or your gutters are no longer working correctly?  Roofing problems are serious business because if left alone and ignored they can end up costing you a lot of money!  If you've discovered a problem with your roof it's time to call on a professional to help identify the problem and come up with a solution to solve it once and for all.
A Better Roof For Less is a full service roofing contractor based out of Genesee County, Michigan.  We specialize in roof repair for all types of residential structures and all types of roofing repairs.  Whether you need the roof on your single family home repaired, a shop or garage, a flat roofing system, or even a multi-family structure like a townhome, condo, or apartment.
Emergency Roof Tarping

Flashing Repairs
Fascia Repairs
Ice Dam Repairs
Leaky Roof Repairs
Rooftop Snow Removal
Shingle Replacement
Soffiting Repairs
Structural Roof Repairs
Ventilation Repairs
New Gutter Systems and Repairs
Roofing Repairs are often required due to a severe storm that may have affected the area, lack of proper roofing maintenance, Improper Installation, or — it may be that your roofing material is starting to break down. There can be a whole host of reasons your roofing is failing. Whatever the cause of your roofing damage A Better Roof For Less can repair your roofing for you.
Your roof damage can manifest itself in several ways but the most common complaint we usually get is that someones roof is leaking.  This could be due to any of the events mentioned above including poor flashing installations, inadequate ventilation installations and more.
For nearly 20 years we've been helping Flint Michigan and Genesee County home and business owners inspect and repair their damaged roofs.  We have experience working with insurance companies and can make the process as painless as possible for you.  We understand the paperwork process and how to speak to your adjuster about your roofing repair requirements.
If your roof has been damaged and you need to have a local professional complete the roofing repairs for you, then you should look no further than A Better Roof For Less.  Our highly experienced roofing team can assess and diagnose your roofing repair problem and recommend the best course of action for your unique roofing repair situation. We'll make short work of your roofing repair project and will make sure the job is done right, for the least amount of money possible.
A Better Roof For Less Offers FREE Roofing Inspections Throughout Genesee County MI
A Better Roof For Less is a top rated, highly reviewed, local roofing company that has been serving the the Genesee County area for over 24 years. Our experienced and manufacturer certified roofers know and understand all of the specifics when it comes to residential roofing systems and how to properly install them and maintain them so they provide our clients with a long service life. If there is a problem with your current roof, we'll be able to find it!
If you'd like to schedule your roofing inspection just call (810) 687-3599 or use our online contact form and we'll get right back to you.
The Most Common Roof Repair Problems We Solve
5. Ventilation Repair: Roof ventilation is critical for regulating temperature and moisture levels in your attic. Over time, vents may become blocked or damaged. Repairing them may involve removing blockages, repairing damaged vents, or installing new ones to improve ventilation.
6. Chimney Repair: Chimneys are often a source of leaks because they involve penetrations in the roof. Common repairs include fixing the flashing around the chimney, repairing the chimney cap, or addressing any structural issues with the chimney itself.
7. Flat Roof Repair: Flat roofs often require unique repairs due to their lack of slope. Common issues include blistering, ponding water, and membrane shrinkage. Repairs often involve patching the membrane, improving drainage, or in severe cases, replacing the entire roof covering.
8. Skylight Repair: Skylights can leak if they're not properly sealed or if the flashing around them deteriorates. Repairing a skylight usually involves resealing the window, fixing the flashing, or in some cases, replacing the skylight if it's old or damaged.