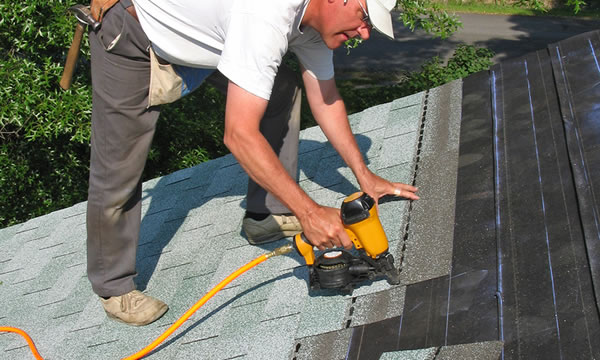 Asphalt Shingle Roofing is probably one of the most common types of roofing material you'll find throughout Genesee County, Michigan.  Asphalt Shingles are affordable and come in literally hundreds of different colors, styles and compositions so you can choose the perfect shingle for your roof.
A Better Roof For Less is a full service specialist roofing contractor specializing in Asphalt Shingle Roofing.  From your initial roofing inspection through removal and installation we meticulously take care of every aspect of your roofing project.
What You Need To Know About Asphalt Shingles:
Your roof is constantly exposed to the harsh abuse of mother nature.  Sunlight, Wind, Water and Ice ALL work to slowly breakdown your roofing material over time.    If you've ever cleaned your gutters and noticed a large amount of what appears to be sand in your gutters then your roof material is actually breaking down.
As these little granules slowly start to separate themselves from the roofing material they leave it exposed to the elements which decreases the performance and lifespan of your roof considerably.
While Asphalt Shingles were designed to be an extremely durable roofing material that can withstand these rigors for many, many years, they do not last forever.  Thankfully though, Asphalt Shingles have come a long way and now roofing systems last much longer and deliver much more value to the homeowner.
Asphalt Shingles are available in a wide variety of price ranges depending on the color, style and the actual composition of the material.  It should be obvious that some Asphalt Shingle Roofing systems are much better than others.
Types Of Asphalt Shingles We Install:
3 Tab Light-Weight Shingles
Mid-Grade Dimensional Shingles
Interlocking Shingles
Designer Architectural Shingles
Asphalt Shingle Ratings - The ratings on Asphalt Shingles were formulated by the American Society for Testing and Materials (ASTM). Shingles with a Class 4 rating have more adhesive strips under the tabs which help them resist strong winds. Class 4 shingles also take six nails as opposed to four when fastening the material. The Underwriters Laboratory (UL) test determines durability from wind and hail impacts. A Shingle that can withstand 60 mile per hour winds for two straight hours will gain the UL certification.
It's important that the roofing contractor you choose to install your Asphalt Shingle roof educates you on the products that are available and what will work best for your specific home. You want to be sold the right product for your roof! Not the most profitable product for the roofer.
We understand that you have plenty of choices when it comes to choosing the right Asphalt Shingle Roofing Contractor in Genesee County, Michigan. When you choose A Better Roof For Less to complete a roofing project on your home, you're getting just that!  A Better Roof, For Less Than The Other Guys!.