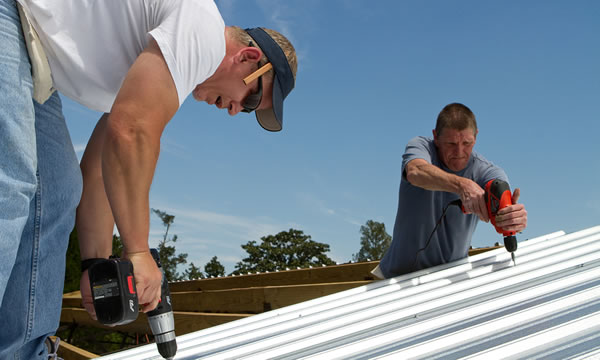 Low Slope roofs are generally classified as roofs that have a pitch of below 4/12 and down. This means that in a horizontal line 12 feet long, the roof would have to rise about 4 feet vertically or less for it to be considered a Low Slope roof. A Better Roof For Less has extensive experience repairing and replacing low slope roofs.
One of the downsides to a Low Slope roof is that they don't drain water as quickly as a steep slope roof. Because of this, there is a higher chance of leaks caused by water deflection (often caused by improper flashing) and wind driven rain. Ice Dams are also a major concern in our area of the country and are a very common problem experienced by homeowners with a low slope roof.
If you have experienced problems with your low slope roof you can always discuss them with us and we can recommend several possible solutions. We have corrected many of these problems for Michigan homeowners.
Low Slope Roof Services We Offer:
Asphalt Shingles

Metal Roofing
Low Slope Roof Replacement
Low Slope Roof Repair
Roof Maintenance
With Every Low Sloped Roof Replacement Project We Do:
Complete Tear Off.
Detailed Roof Decking Inspection.
Addition of Correct Venting if not present.
Quality Roofing Material (of your choice).
All Roofs Projects Exceed County Codes.
We know you've probably taken great care of your property and we'll protect it as if it were our own. We'll be sure to leave zero trace of our presence aside from your brand new roof. We'll use a magnetic roller to clean-up any nails that may have fallen on the ground and we'll even clean out the gutters of any debris from installing your new roof too.
When you choose A Better Roof For Less you're getting just that… A Better Roof For Less! We will exceed your expectations in every aspect of your project.