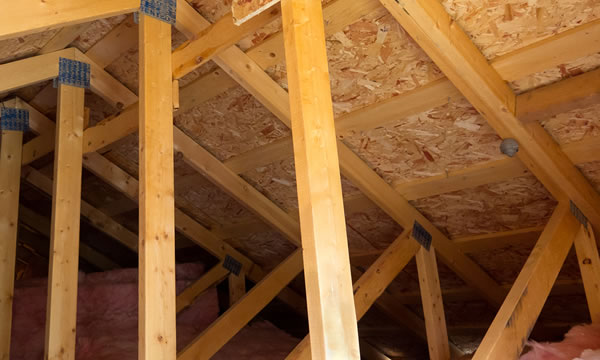 Insulation is one of the many unseen aspects of home improvement that can actually make a very significant difference in your energy bills.  Did you know that insufficient insulation and the accompanying air leaks are the #1 cause for energy waste in homes across America.
A Better Roof For Less is a full service insulation contractor specializing in attic insulation and radiant barriers for your home.  We use the highest quality insulation products from companies like Owens Corning, John Manville and Certainteed.
Attic Insulation – It is common knowledge that hot air rises so if your attic is not insulated properly you are spending much more than you need to heating and cooling your home.  Insulation technology is constantly improving and the insulation from 20 years ago does not even compare to the cellulose, fiberglass and spray foams that are on the market now.  A Better Roof For Less are attic insulation specialists. We can inspect your attic and help you determine if it be worthwhile in your situation to insulate your attic with a number of different products available.
Radiant Barriers – Radiant barriers are usually installed in the attics of homes as a way to reduce summer heat gain and reduce home cooling costs. Radiant barriers consist of a highly reflective material that reflects radiant heat rather than let your attic absorb it thus reducing the amount of energy required to cool your home.  A Better Roof For Less are your Radiant Barrier installation specialists.  We can give you a free consultation to determine just how much you would benefit from a radiant barrier in your attic.
Types Of Insulation We Can Install:
Fiberglass Insulation.
Spray Foam Insulation.
Cellulose Insulation.
Stone Wool (Rock Wool).
Radiant Barriers
[box color="navy-vibrant" type="square" icon="lightbulb"]We understand that you have plenty of choices when it comes to choosing the right Insulation Contractor in Genesee County Michigan. When you choose A Better Roof For Less to complete a insulation project on your home, you're taking on a new partner with an invested interest in the quality of your finished project. It's the best advertising that we have![/box]
[divider type="plain" width="medium" align="aligncenter" clear="clearleft"]